Guide swing with driver sticks
Instructions on how to place the ball correctly: place the ball on the tee, adjust the ball on the top of the club.
+ Preparing posture: Place the ball opposite the big toe of your left leg, your legs spread wide enough, your upper body tilted backward to form a line with the left leg. You put the ball on the tee and best of all, feel like you're trying to hit it straight up into the sky.
+ Stopping: to take a strong driver stroke, move the weight back to your foot after putting the club up. Your hips and shoulders lift the rotation of the stick and you see the weight put on your right foot.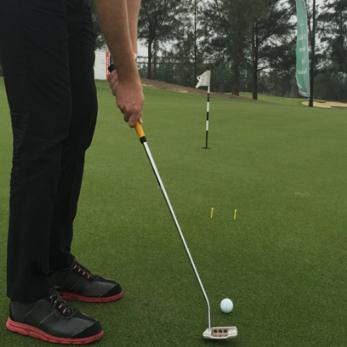 + Downswing: the process of accumulating energy and using power for the stroke. Put your weight from your right foot to your left heel and move your hips while keeping your head in the same position. This is very important for a proper driver strike. When weight is put on the left foot and the right elbow hits the hip, it is time to put all the stored energy. Drill the club too early until the right elbow hits the hip, which saves you a lot of energy.
+ Polishing: the process of straightening the elbows and releasing the wrists. The blow is almost completely released. When touching the ball, pay attention to keep your head back to make sure your shot is up and away. Once you've kept the right angle and you can exert all of your reserve energy when lowering the club, you will have a precise driver stroke.
Imagine our swing is like the rotation of a Compa. The head and the spine and the head are straight, the handle and hips rotate into a rotation of Compa. If you do so, you have a perfect Swing round already.
Not stopping there, on the golf course there are many pitfalls that you must overcome to conquer the hole, conquer yourself.